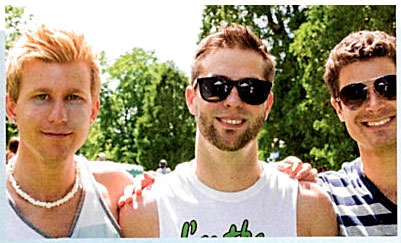 I just got a copy of July's issue of Dispatch Magazine, which is local to Maine and New Hampshire. My boss had actually saved it out for me because she recognized my picture on the first page (see full spread below). My friend Jesse and I went down to Portland and stayed for Pride weekend. I had a good time and this was the first Pride we've had since the passage of marriage equality in Maine, so it was even more special this year.
In more recent GLBT news, the Federal 9th Circuit Court just today upheld the ban on reparative therapy, a type of "counseling" intended to change the sexual orientation of gay and lesbian people. For now the ban only applies to minors, but I believe it will soon be extended to all adults, especially if opponents appeal the decision and it goes before the US Supreme Court. Following the DOMA and Prop 8 decisions, I think it's pretty clear how our nation's highest court feels about gay and lesbian people, so I have no concerns. Republican Governor Chris Christie recently signed a similar ban into law in New Jersey, a further indication that conservatives and the GOP are beginning to embrace equal rights for all.
Prop 8 supporters lost their last appeal a little while ago, meaning Prop 8 is permanently dead. As to the DOMA decision, there was some ambiguity about whether same-sex couples living in non-equality states who got married in an equality state, would receive federal marriage benefits. Today the IRS announced it would in fact extend federal marriage benefits to all same-sex spouses, regardless of their state of residence. That means a couple from Texas, for example, can vacation and get married in Maine, then return to their home in Texas and continue to receive federal marriage benefits. The IRS decision, combined with the current Supreme Court position, new litigation across the country, and public acceptance of marriage equality, leads me to believe same-sex marriage in every state is only a few years away.