Maine has once again made history in the movement toward full equality for LGBT people, this time for transgender students. A case I've been following for several years now in which a girl named Nicole Maines wanted to be treated the same as any other girl in Maine's schools. The school district turned it into a legal battle when they refused to allow Nicole to use the girls' bathroom. The Maine Human Rights Commission became involved because Maine law specifically forbids discrimination based on sexual orientation and gender identity / expression. In a 5-to-1 ruling, the Maine Supreme Court ruled in favor of the girl who is now 16. According to the Bangor Daily News:
"It is the first time any court in the nation has ruled it is unlawful to force a transgender child to use the school bathroom designated for the sex he or she was born with rather than the one with which the child identifies, according to the Gay & Lesbian Advocates & Defenders of Boston, which represented the girl and her family."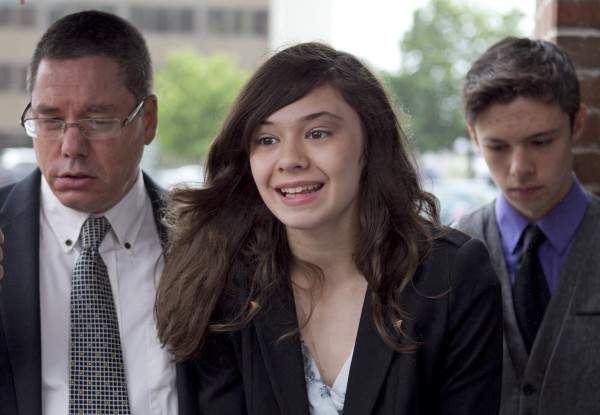 Transgender student Nicole Maines (center) with her father, Wayne Maines (left), and brother Jonas, speaks to reporters outside the Penobscot Judicial Center, Wednesday, June 12, 2013, in Bangor.
The decision is especially meaningful to me because I helped pass the anti-discrimination law in 2005. Specifically I testified before Maine's Judiciary Committee when I was in high school. I told about my experience of being bullied in high school because I was gay, and why the bill should protect students in addition to employment, public accommodations, housing, and credit.
We were successful and in 2005, sexual orientation (the Maine legal definition of which includes "gender identity and expression") was added to the Maine Human Rights Act, including protections for students. The court's ruling is fairly broad and can surely be extended to the other categories within the Maine Human Rights Act so that transgender employees are also protected. Public accommodations such as restaurants and hotels, along with housing units, are also prohibited from discriminating.
I'm proud of Nicole and her family who has stood by her side since 2007, when Nicole was in middle school. Congratulations to Nicole, her family, and all those who helped and encouraged her to be true to herself, particularly the Gay & Lesbian Advocates & Defenders of Boston, the Maine Human Rights Commission, Equality Maine, and the Maine Civil Liberties Union, the latter two of which supported me during my struggles in high school. I think this is a sign of things to come, both here in Maine across the U.S. As Maine goes, so goes the nation.
Tags: adams, asa, court, discrimination, maine, maines, nicole, orientation, public, school, sexual, student, supreme, transgender