I've been thinking about getting back into modeling again. I did some test shots last night and I was quite happy with the results. I always enjoyed modeling for the most part, getting to travel, working with photographers – almost everything I know about photography is stuff I picked up while modeling. At some point I thought I should focus on school and all, but there's really no need to choose between them. I'm not enrolled in classes this semester, so I've had some extra time on my hands. I've mostly been working on building iPhone Apps as part of my Seashore Design company, along with some graphic and web design work, but I thought I'd take a short break the other night and have some fun. I think what got me thinking was seeing David Beckham's new underwear commercial during the Super Bowl – I've always admired his modeling and his body. Madonna's performance was amazing, by the way!!! If you haven't yet watched the halftime show, look it up online! I've already pre-ordered Madonna's newest album, MDNA, which will be released in late March. Madonna has always been my favorite musical artist.
If you are a photographer and would like to work with me, drop me a line. If you're already modeling and want someone to work with, I'm pretty much up for anything. It's art, it's fun. I do have a ModelMayhem account, though I haven't used it much lately (I also just made a Tumblr account, but I have no idea what to do with it, haha). Maybe I will breath some life back into MM with my recent test shots. Some of them are below. I haven't had time to Photoshop them and to be honest, I kind of like the raw photos. I typically don't do a lot of post-processing in the photos of myself other than maybe white balance. I like the natural look and so I refuse to wear makeup, too (I've always hated makeup, even on Halloween, hehe). Photographs emphasizing the male body should be straightforward and organic, in my opinion. It can be fun to do really artsy stuff, even body paint, but that's not the intention of these test shots.
I've really been wanting to do some water surface and underwater shots, though I've got some waiting to do if I take them in Maine – we're still in the thick of winter here, though it's been very mild. Today managed to reach the low 50's, amazingly. I was just in California last month and it was so much better there (in more ways than temperature, lol), but not as hot as Florida, my second home <3 I want to tone my body a bit more, too. I've lost over 20 pounds since this time last year, now down to 138 with a goal weight of 125. That will give me the best muscle definition while also maintaining the minimum healthy weight for my height. Anyway, feel free to comment or drop me a line if you're interested in working with me. I'm pretty easy going and fun to work with.
This one is just for fun – me & Punzo. Punzo's two little sisters are doing wonderfully, by the way, and we are looking for good homes for them when the time comes. Seven pomeranians (and a sheltie who thinks she's a pomeranian) is way too many dogs for us, not to mention the rest of the zoo we keep at home.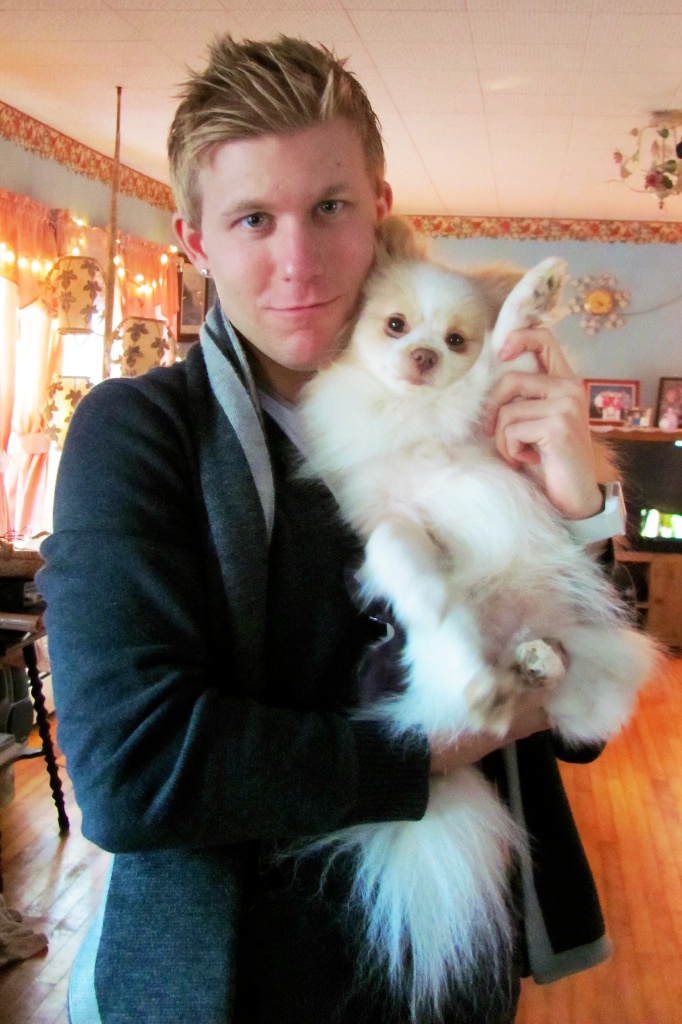 Tags: Photography